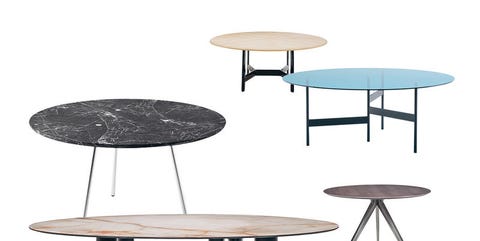 Apart from echoing legendary fellow must-have's like Eero Saarinen's Tulip (1957), round tables have been drastically revamping the world of dining tables: the most exact maths-wise, they are also democratic, convivial, generally comfortable. Tablemates seat together with no hierarchy, looking each other in the eyes and without having to deal with nasty table legs. Strong of their edgeless design, round tables are a great fit when small children or clumsy people are around; moreover, the circular shape allows to easily set another place for lunch and maximise any available space, with tables doubling as living consoles when seats are dismissed. Isn't it a go-to answer for any of you living in small-sized houses? Round tables' key strength is nothing but the circle itself – a synonym with perfection, wholeness, union and harmony; a symbolic perimeter where both material and spiritual energies are set to gather naturally. Hence our choice to sit around it and share food together. Last but not least, design round tables also radiate some sort of Oriental esprit which draws its major inspiration from nature.
Opening photo: ROUND DINING TABLES: 2018'S TOP 7 TRENDS INSPIRED TO NATURE AND ASIAN TRADITIONS
Let's kick off from Home Hotel, designed by Jean-Marie Massaud for Poliform. Part of a system based on the free modularity of its multiple component elements, the Home Hotel mixes bold nuances and solid materials: 100% wood, or black elm and white marble, the top develops into two customisable concentrical circles. It provides subtle variants that define an increasingly individual styling, distinguished by materials capable of conveying the actual idea of naturalness. Featured in a wider selection of benches, consoles, containers first launched in 2016, the Home Hotel is fully versatile, and perfectly adapts to both residential and hospitality projects.
Then again, nature is the best source of inspiration. Here's Piero Lissoni's latest collection of round dining tables for Knoll International: the ideal combination of slender surfaces and perfectly balanced structures. Named Grasshopper – any of a group of jumping insects that are found in a variety of natural habitats –, the table comes in both rectangular (incorporating rounded corners) and round versions: "If this table could be described with just two words, they would be flared and lightweight. Indeed, Grasshopper borrows its name from the animal that has six precision tools for legs. Here there are four, equally long and incredible and yet perfectly functional. Above them sits a top that is so thin that it looks able to lift up and take to the air", Lissoni himself is keen to point out. The structure is composed of very thin, high-performance cast steel elements available in chromed, burnished or painted finishes, while the tabletop is available in uncommon and exquisite stone, such as Rosso Rubino marble, glass, and woods.
Alex, the latest round table collection by Antonio Citterio for B&B Italia, intertwines an extra-slim top with solid base. The new series comes in various sizes marked by the pronounced design of the sectional frames in large, lenticular shapes, and unfolds around a "sawhorse" frame connected with the crosspiece, made of hard polyurethane with metallic drawn inserts in glossy or satin colours. To quote Citterio himself: "A table with a modular base, a simple but strong shape, in which the colour of the finishing becomes a design, matched by sophisticated wooden tops with curved edges made through fabric press technology."
Antonio Citterio also delivered Zefiro, a small & dining table selection for Flexiform. Driven by the theme of lightness, the collection boasts a slim central leg made of stainless steel. Thanks to an artful combination of forms and materials, Zefiro shows an unmatchably harmonic solidity.
Italian architect and designer Massimo Mariani mainly deals with movement and geometry. Indeed, Notes, his latest round table made of glass/wood/concrete for Living Divani and launched at the Milano Design Week on last April, is far from being static. The table's structure features three slender legs adjoined through metallic strips placed at different heights: by seemingly chasing each other in a tireless graphical play, they provide a charming, ever-changing perspective. The table is built with tube-shaped iron connected through beams varnished with epoxy powders. It comes in the following chromatic finishes: white, black, dark grey.
The original design of More, a table series by Angelo Mangiarotti for Agapecasa, has been updated to today's latest technology for a more precise execution while still honouring the original concept: the top as key structural element. With one or more truncated conical supports slotted into the top according to shape – square, rectangle, oval, round or triangular –, the table comes in several shapes and heights in white Carrara, black Marquinia, grey Carnico, green Alpi and Emperador Dark marble.
It is now the time for French architectural designer Jean Novel, whose aesthetic sensitivity immediately comes across any design furnishings of his: see Li-Da, the dining table for Roche Bobois with pivoting top entirely made in Daquacryl (3-mm thick PMMA veneer on engineered composite wood). Novel's full collection is an homage to Chinese traditions and the Asian heritage, built upon the circle as an actual means of purity.
Lastly, we wrap up with Roll Keramik, the monolithic dining table designed by Paolo Cattelan: made of multiple elements, the table owes its primordial feel to embossed lacquered steel legs and marble-like top. Coming with 3, 4 or 5 legs depending on the table size, the item shows the power of technological progress in artificially recreating the highly textured look of natural stone.